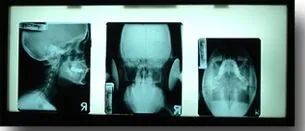 Precise Laser Aligned X-ray
During an individual's initial examination, an accurate determination of the upper cervical vertebrae's position must be made. Because standard X-ray technology is inadequate for this purpose Precise Laser Aligned X-ray is used. Unlike conventional equipment, laser-aligned equipment is meticulously adjusted for accurate laser technology and a specialized frame is designed to maintain its alignment.

The x-ray images are then analyzed to determine the displacement of the upper cervical vertebrae.

The equipment, the X-ray views, and the x-ray analysis are all performed in accordance with NUCCA upper cervical care guidelines.

Every effort is made to keep x-ray exposure to a minimum, including the use of new, state-of-the-art X-ray equipment. Be assured that radiological exams are performed only when clinically necessary to insure proper patient care.